First, I wanted to tell you about
Primary Possibilities'
really great classroom theme packs. They are so cute, and the best part is they are doing a giveaway!!!:) You don't want to miss these cute packs. Head on over to their blog to see what I am talking about.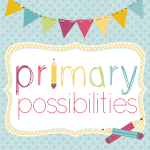 Next, I wanted to thank
Sunny in Kindergarten
for my third Liebster nomination! I am truly honored. I wanted to take the time to answer the eleven questions she created for her nominees. Thanks again so much!!


1. What is your teaching background?

I taught preschool for 2 1/2 years. This is my fourth year teaching fourth grade.
2. What is your favorite season?

I love autumn/fall because it is so beautiful to watch the leaves change colors.
4. What is your morning routine?

I have two children so sometimes it varies. For the most part, I shower, then eat breakfast, fix lunch(during the school year), and then head out. During the summer, I don't really have a routine.
5. Your favorite vacation has been? and why?

Last summer, my daughter, my parents, and I drove from N.C. to Texas. It was so fun because we made stops along the way in every state. Also, I had never been to Texas. I really enjoyed the Alamo and the San Antonio Riverwalk.
6. What was your favorite field trip as a student?

In eighth grade, we went to Six Flags in Georgia.
7. What teaching item can you not live without?

I could not live without the document camera/Smartboard.
8. Why did you become a teacher?

I feel that education is important to everyone and for many reasons! Also, I admired my teachers and saw what a difference they truly made in my life and others.
9. Where did you go to college?

N.C. State University
10. Favorite place to shop? and Why?

The Loft because I love their clothes, and I can always find my size!
11. When is your favorite time to blog?

I blog whenever I have the time, but if I could always choose then probably at night.
Thanks again for the nomination! Don't forget to checkout Primary Possibilities! I am off to do some Crossfit and dye some clothespins for the next Monday Made It!